Top | SMAL Air Lens | Application and Tech Notes | Nikon LV Mod
Nikon Metrology is partnering with LIG Nanowise to bring super-resolution microscopy using the LIG Nanowise microsphere technology to the Nikon LV100ND and LV150N microscopes. This product (called the LV-Mod) will allow Nikon LV microscopes to achieve spatial resolutions under 100 nm!
View the Press Release:
Nikon Metrology Europe partners with UK special optics manufacturer to propel super high-resolution microscopy into the mainstream.
Increase the resolution, contrast and imaging flexibility of SMAL on the Nikon Eclipse LV series.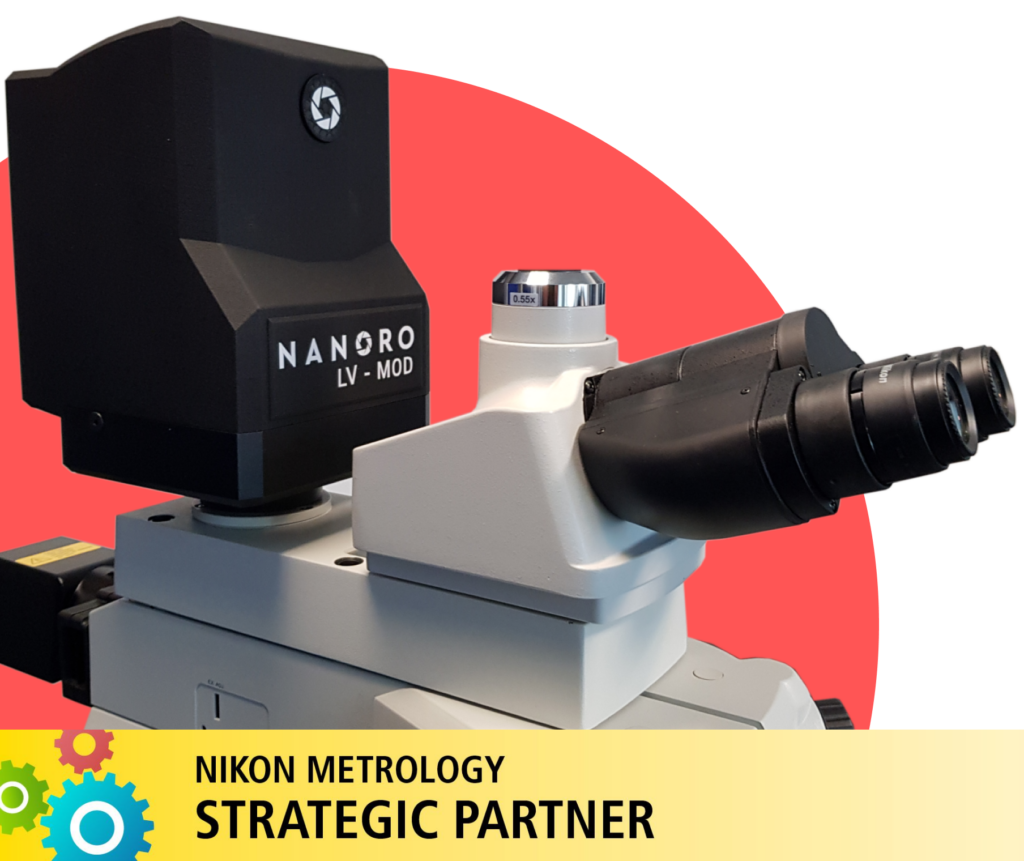 Iris control: light focusing

Light intensity control

Directional light source

Software control
Comparison: Nikon & LV-Mod vs. Standard Microscopy
A semi-conductor microchip is imaged using SMAL AIR lens associated with the LV-MOD mounted on a Nikon LV-100 microscope. The image obtained with the SMAL AIR lens is shown in the inset circle. The same are was imaged with a standard 100x objective lens mounted on the Nikon LV-100. The images were superimposed for comparison.
Access sub 100 nm resolution on the Nikon LV100ND and LV150N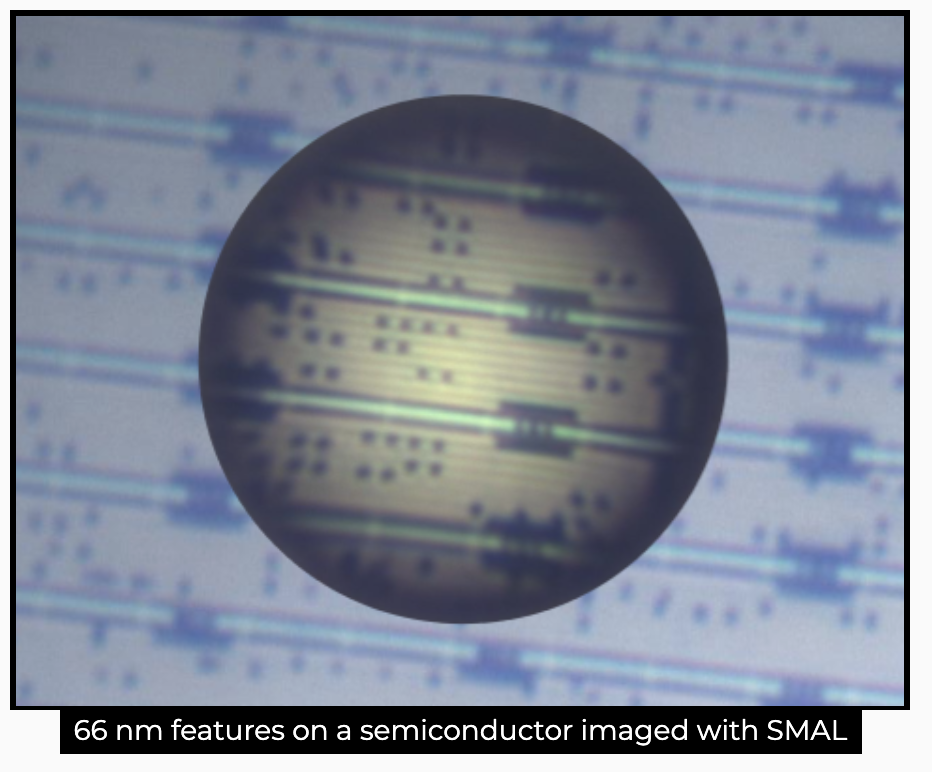 Coupled with the LIG Nanowise Super-resolution Microsphere Amplifying Lens (SMAL), the LV-MOD allows you to access resolutions sub 100 nm easily and non-destructively.
Controllable light source
Intensity control
Contrast control
Directional light source control
With a controllable iris and directional light source, the LV-MOD gives unparalleled resolution, magnification and image clarity.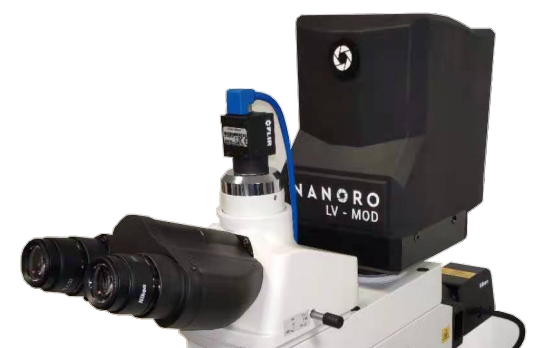 Easy to use software widget
Easy to use software control sits alongside your normal imaging workflow so that you can create images with the highest contrast and clarity possible, quickly and easily.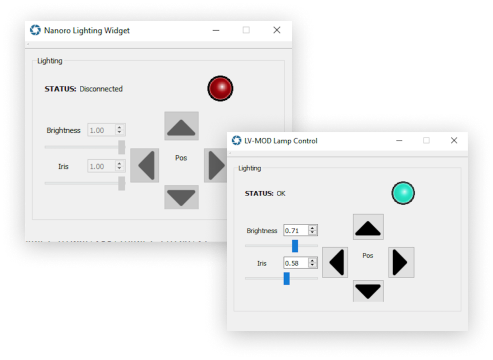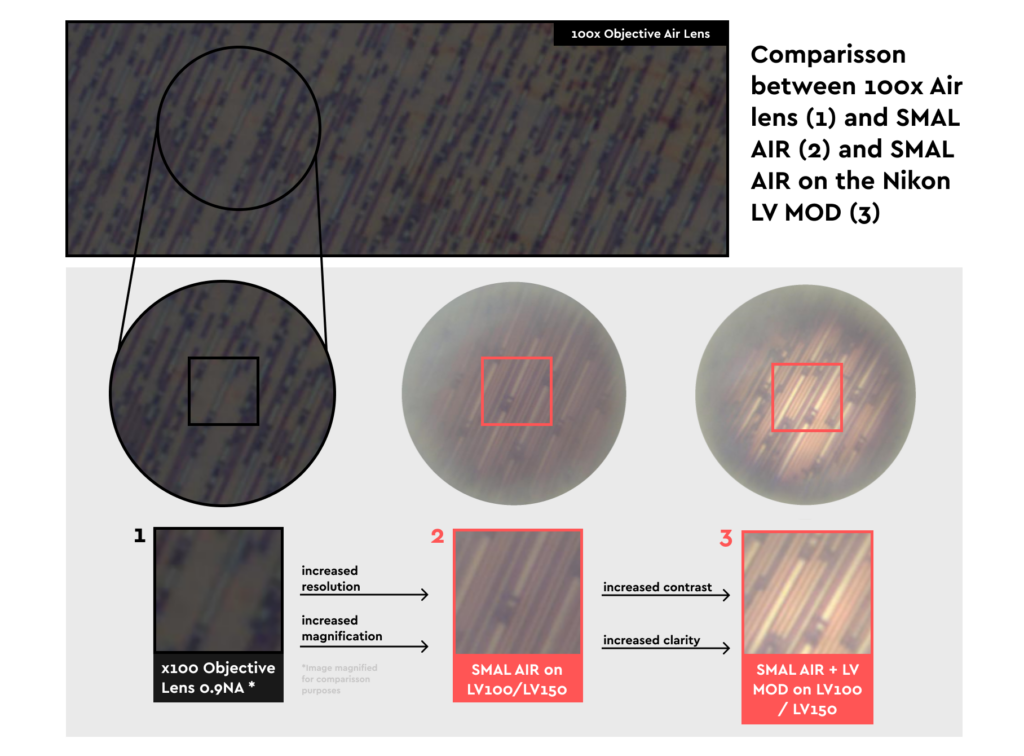 Frequently Asked Questions
LV-MOD is a PC-controlled directional LED light source, providing remote control over illumination size, intensity, and position within the microscope's field of view.
Who can benefit from using the LV-MOD?
This product is designed to enhance SMAL and SMAL-AIR imagery on Nikon Eclipse LV100ND and LV150N microscopes. It enables these microscopes to increase the image contrast and clarity with SMAL and SMAL AIR super resolution objective lenses. This not only increases image quality but also allows imaging of samples that may not have been possible previously. See here for example images.
Which microscopes are supported?
LV-MOD is compatible with Nikon Eclipse LV100ND and LV150N microscopes.
How is LV-MOD attached to the Eclipse microscope?
LV-MOD requires a double-port attached to the microscope. The LV-MOD attaches to the double port.
Which light sources should I consider?
LV-MOD has an in-built light source, so you do not need an additional illuminator. However, if you already have a standard lamp unit on the microscope, LV-MOD will work perfectly alongside it.
Does the LV-MOD change the resolution / magnification?
No. The SMAL and SMAL AIR objective lenses will retain their world-leading resolution and magnification. The LV-MOD will simply enhance the images from these lenses.
LIG Nanowise provide SMAL, SMAL-AIR, LV-MOD and NANORO-M; what are the features and benefits?
What do I need to know about SMAL and SMAL AIR?
Questions and Answers, as well as images and specification can be found on the product pages here and here.
Many of your images are stitched – can we stitch on the Nikon microscope?
Nikon LV100ND and LV150N offer modular options for stage control and stitching, however, this is not currently confirmed for SMAL and SMAL AIR lenses. We are working on developing this functionality in the future. Currently stitching large areas at optical super-resolution is only possible with SMAL and SMAL AIR on the Nanoro M.
I have more questions – how can I get the answers?
Please contact us below and we will be happy to answer your questions and direct you to your nearest point of contact for sales enquiries.
For More information
Nanoro page
LIG-Nanowise Manufacturers Website

Contact Us Online Form
Phone: 916-897-2441
Email: [email protected]