TOP | Raman | FTIR | LIBS | Nano mechanical Testers
X-ray | Vibration Control | Gas Sensors
IROS 05 Series FTIR Spectrometers
IROS 05 FTIR spectrometer is designed to provide the wide range of sample measurement techniques in the most challenging environments from the laboratory to the pilot plant. Compact size, reasonable price for unique set of accessories and high performance – these advantages of IROS 05 Spectrometer allow it to fit to most of research and field tasks as a mid-level spectrometer for academic and industrial applications.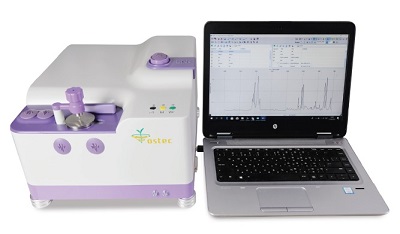 Mean Features:
Wide array of functions due to various attached modules and detectors.
Capability of additional external devices connection for IR spectrum registration.
Stability to temperature fluctuation and vibration due to unique patented interferometer design.
Moisture durability because of ZnSe optics
Compact and light-weight.
Click here for the IROS 05 FTIR page on the Ostec website.
IROS 01 FTIR spectrometer

Advantages over classical Michelson interferometer:
Resistance to misalignment. There is no need to compensate thermal drifts and vibrations misalignments
High beamsplitter resolution
The angle of incidence for beam splitter is 90°. It allows avoiding polarization effects, angle of incidence for Michelson
interferometers are 45° or 30°
Wide range of optional modules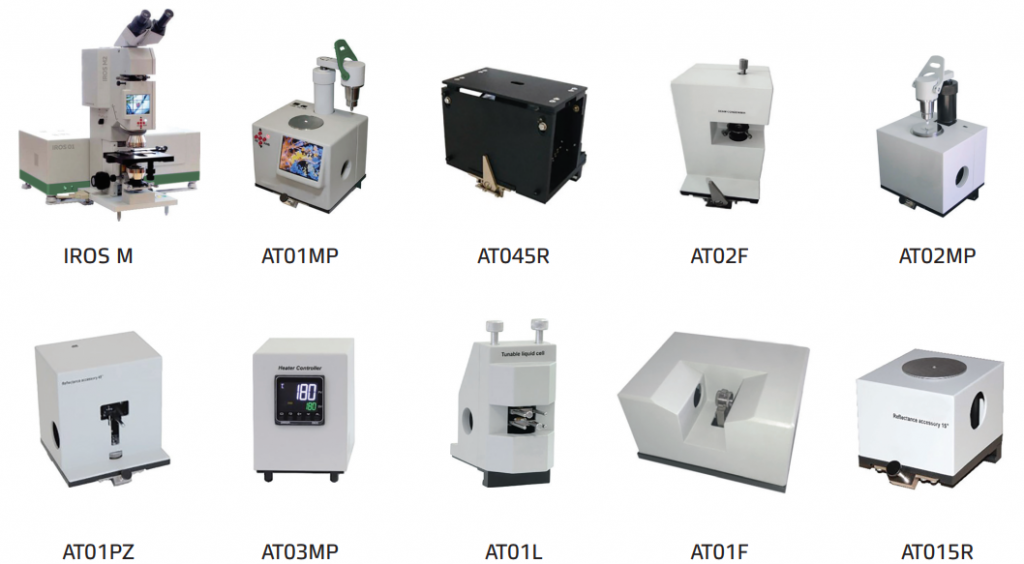 IROS M2 wide-range IR microscope
IROS M2 wide-range IR microscope combined with IROS 01 FTIR spectrometer
Spectrum registration modes:
Transmission
Reflection (Specular and ATR)
Min. linear sample size: 5 – 10 µm
Two built-in detectors:
MCT with nitrogen cooling
MG-32M (DLaTGS analog)
Simultaneous spectrum registration and sample monitoring
Click here to view the IROS M2/M3 Spectrometer page on the Ostec Website.
IROS M3 wide-range IR microscope
The microscope is mounted outside the cuvette compartment close to the spectrometer. The visual channel is overlaying with IR channel for sample observation (aiming) and IR spectrum registration.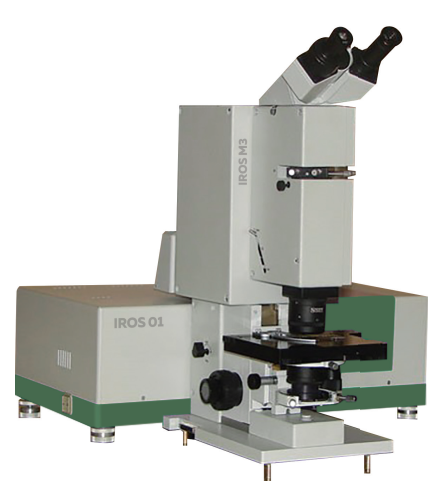 Main characteristics:
Spectra registration of micro-objects up to 5 µm in transmission, specular reflection and ATR (with suitable objectives) modes.
Spectral range: 600 – 6 000 cm-1 (with MCT detector)
Min. resolution: 0.5 cm-1
Signal-to-noise ratio: ≥ 20 000 (1 min, resolution 4 cm-1, range 2 000 – 2 200 cm-1)
Motorized sample stage with autofocus system and mapping mode according to programmed parameters. Step: 2.5 µm
Revolver mechanism with changeable lenses
IR objective 15x
Visual objectives 4x, 10x, 36x or 60x
ATR (attenuated total reflection) objective 36x or 60x
Highly sensitive MCT detector with liquid nitrogen cooling
Additional MG-32 detector (DLaTGS analog) for operation without liquid nitrogen
Simultaneous operation in IR spectra registration mode and visual sample observation mode
Adjustable and rectangular diaphragms to identify IR spectrum registration area
Built-in video camera (2 MPX, USB)
Click here to view the IROS M2/M3 Spectrometer page on the Ostec Website.
IROS P Series – FTIR spectrometers based on Michelson interferometer
Michelson interferometer with self-compensation, no dynamic adjustment needed.
Radiation source – nichrome-ceramics / halogen lamp.
Beamsplitter – KBr/Ge / CaF2/Ge, optical windows and beamsplitter moisture-proof coating.
Detector – pyroelectric DLaTGS detector / InGaAs or Si photodiodes.
Internal calibration – He-Ne laser.
Purge system – CDA or nitrogen for CO2 and H2O vapour noise minimization.
Recording system – 24-bit A/D converter with amplifiers and antinoise filters.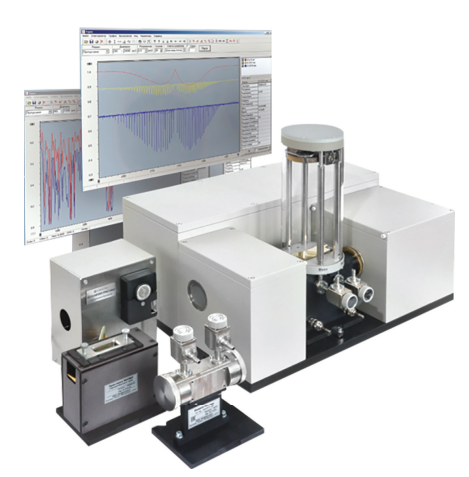 Main characteristics:
Spectrometers product range with resolution up to 0,1 cm-1
High sensitivity, rapid response
Automated measurements, easy to use
Wide range of accessories
Application software for common tasks
For More information
Click here to view the IROS P Series page on the Ostec Website.

Contact Us Online Form
Phone: 916-897-2441
Email: info@Barnett-Technical.com