Please join us in Pasadena California, on October 30th to November 4, for ISTFA 2023. This is always a great show and we are looking forward to meeting with friends and making new ones. Please visit us at Booth #410.
We will be at there representing a number of products:
Micro Support Micromanipulators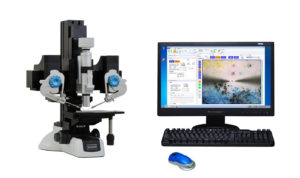 Unlock the world of precise sample manipulations as small as 1 micron with our cutting-edge microscope/micromanipulator system. Designed to deliver exceptional performance, it offers a comprehensive suite of capabilities tailored to your needs. Key features include:
Electrical Probing: Seamlessly conduct electrical probing with utmost accuracy and reliability.
Particle Isolation: Effortlessly isolate particles with precision and efficiency.
Cutting and Surface Milling: Perform precise cuts and mill off surfaces with exceptional control.
Micro Tweezers: Experience enhanced dexterity and control with our micro tweezers for delicate operations.
Vacuum-Assisted Particle Transfer: Utilize vacuum functionality to seamlessly transfer particles with ease.
Additionally, the Axis Pro Micromanipulator arms can be seamlessly integrated with FTIR or Raman Microscopes, expanding the system's capabilities and versatility.
We invite you to visit our booth at ISTFA 23 and discover firsthand the power and precision of the Axis Pro Micromanipulator. See how it can revolutionize your sample manipulations and take your work to new heights.
About ISFA 2023, Nov 12 – Nov 16, Phoenix, Arizona
Share your experiences and advance the industry and your career at the 49th International Symposium for Testing and Failure Analysis, the premier event for the microelectronics failure analysis community. We invite you to submit your work for publication and to present to the industry in Phoenix, Arizona, for the 49th year of ISTFA.