TOP | Raman | FTIR | LIBS | Nano mechanical Testers
X-ray | Vibration Control | Gas Sensors

Ostec offers a wide range of Raman microscopes from the very basic RAMOS S120 system to a Raman CARS system that represents the most advanced commercial Raman microscope on the market.
RAMOS S120
Basic Confocal Raman Microscope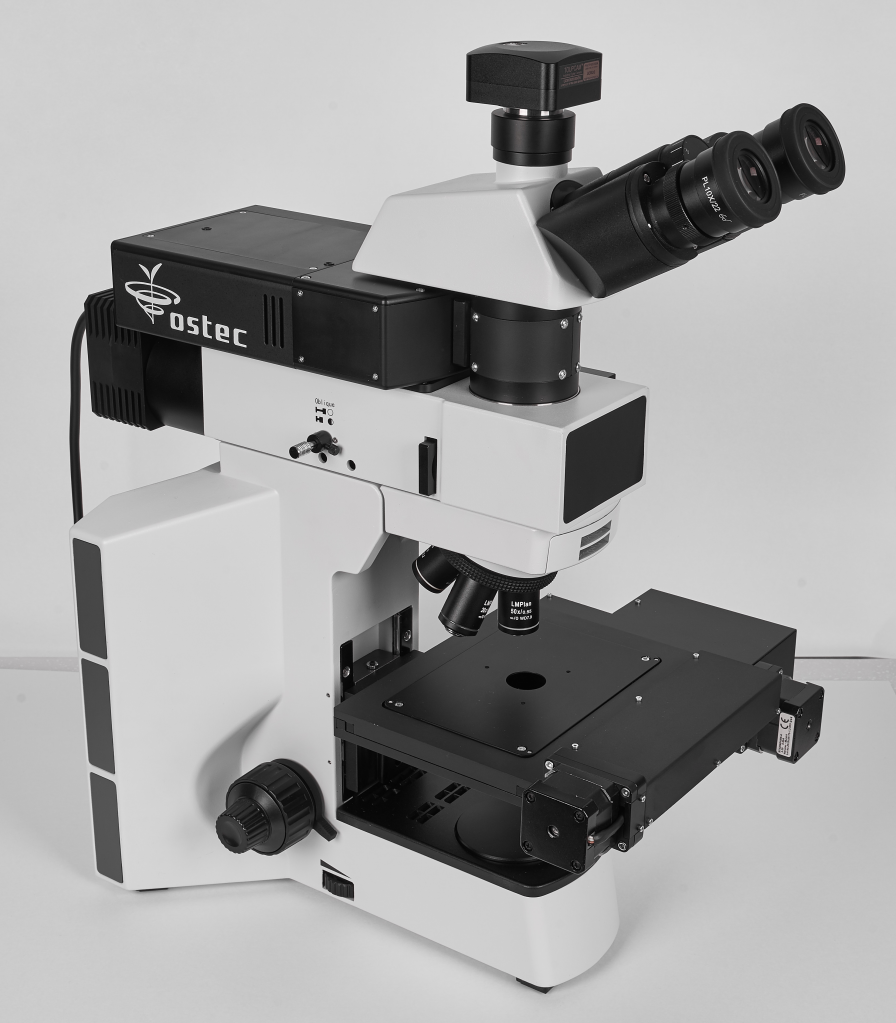 Versatile automated confocal Raman microscope
High throughput true confocal design enabling submicron resolution
Research-level optical microscope with advanced techniques
Powerful software enables mapping of lines, areas, depth profiles, and cross-sectional slices
Compact footprint
Up to 2 lasers configurations
Edge or Bragg filters
Fully automated change of lasers, gratings with no additional system alignment
High-resolution color video camera for a sample observation
Research grade optical microscope
Raman optical module
Automated 3-position turret with mirrors for input/output radiation
Confocal laser microscope module ("Reflection" module)
Two-channel imaging spectrometer
Z piezo scanner
Manual or automated microscope stage
Click here for the Ramos S120 page on the Ostec Website.
RAMOS CARS
RAMOS CARS is the only commercially available anti-stokes Raman instrument. This Multifunctional Coherent Anti-Stokes Raman Spectroscopy system (CARS) combines a CARS scanning microscope, a Raman / luminescent scanning confocal microscope, and a conventional scanning confocal laser microscope

Multi-channel – five channels for simultaneous high-speed measurements:
F-CARS
E-CARS & Raman
reflected laser radiation
transmitted laser radiation
luminescent laser radiation
Advantages of CARS method
high sensitivity: CARS generates more intensive and directed signals in comparison to spontaneous Raman microscopy;
anti-Stokes CARS signal has frequency exceeding pumping waves frequencies and is detected in a spectral range free from the stray light of Stokes luminescence;
CARS signal is registrated only in a focus where excitation intensity is the highest. It allows imaging with a high spatial resolution using non-confocal pinholes and also performs 3D layer-by-layer scanning with minimal neighboring layers influence on measuring results;
spectral resolution of CARS signal is defined only by the width of pumping lasers lines, what simplifies spectral measurements, as detection of CARS signals can be performed without any spectral instrument;
CARS signal is proportional to the squared molecule concentration, it allows using CARS (along with the selectivity and noninvasivity of the method) for quantitative measurements of chemical substance concentration in a sample;
minimal invasive (nondestructive) CARS method for biological samples. Due to the high sensitivity of CARS method molecules in living cells can be detected without fluorescent markers.
Click here for the RAMOS CARS page on the Ostec Website.
RAMOS E/M Series (E200, M350, M520, M750)
3D scanning laser Raman microscopes provide rapid, high sensitivity analysis and unprecedented convenience.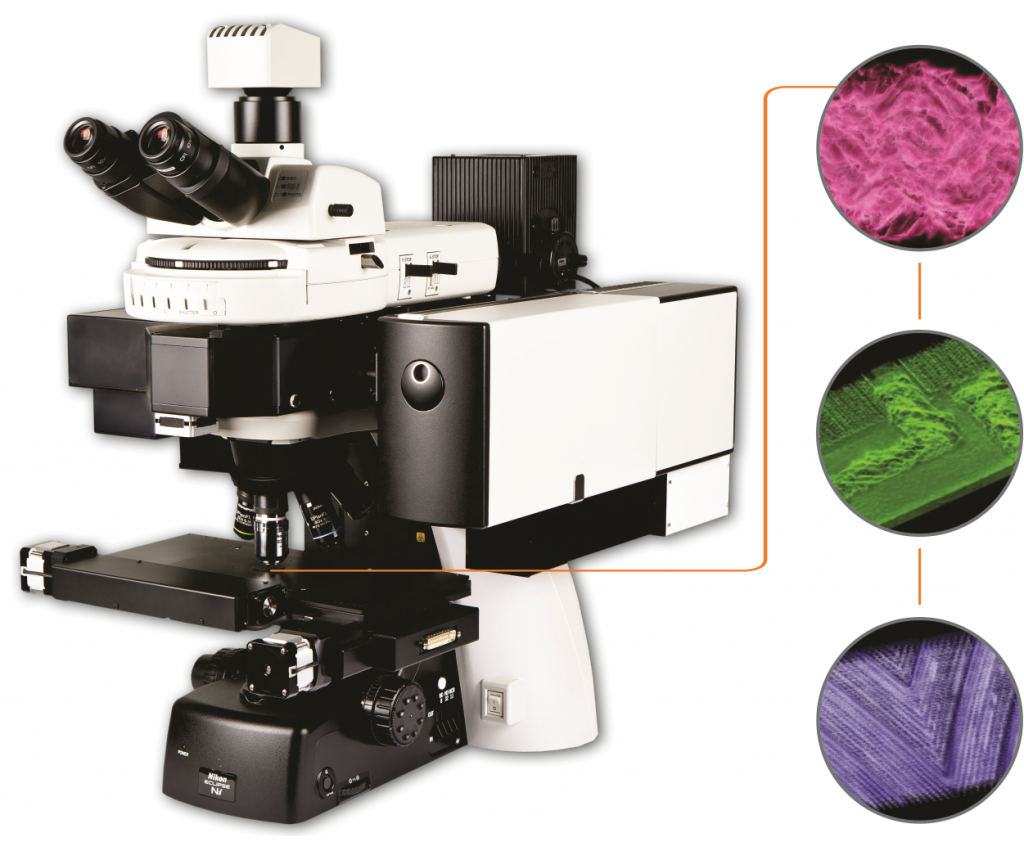 RAMOS E/M Series Raman spectrometers are designed on the basis of research grade optical microscopes allowing the realization of the following light microscopy methods:
Raman measurements
Transmitted light
Reflected light (bright field and dark field illumination)
Confocal microscopy
Fluorescence measurements
Polarization contrast and phase contrast imaging
Differential interference contrast
The innovative approach to system design of Raman spectrometers ensures extremely high temperature and temporal stability of spectral measurements.
All components of RAMOS E200 system are fully integrated within an optical microscope providing compactness and mobility of the system.
In RAMOS M350, M520, M750 systems external imaging spectrographs are connected via optical fibers.
Raman measurements with the RAMOS E/M Series systems can be started in several minutes by turning a system key.
Click here for the RAMOS E/M Series page on the Ostec Website.
RAMOS N500
3D Scanning Laser Raman Microscope
The highest spectral and imaging resolution with specially designed spectrometer
Specially designed imaging spectrometer incorporates many features that make it ideal for confocal Raman measurements. The image of pinhole is projected to a multichannel detector without any aberrations.
The smaller amount of illuminated pixels on the CCD matrix leads to the smaller dark counts and the higher spectral resolution.
Spectral resolution of RAMOS N500 with an Echelle grating is 0.25cm-1
Spectral image of the pinhole on the CCD camera (aberration free). CCD pixel size is 12 μm.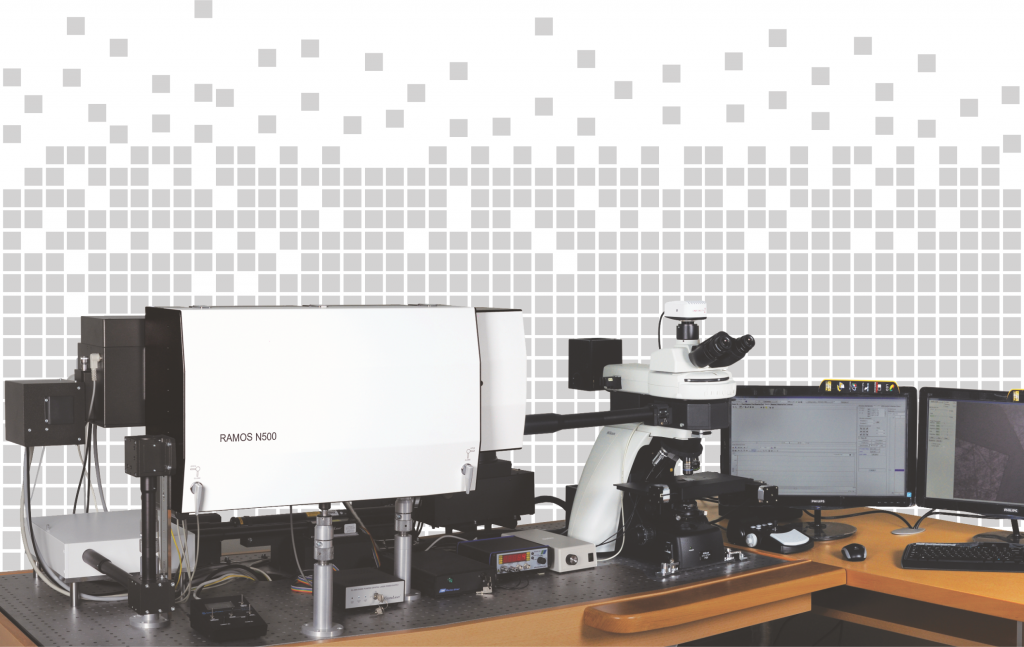 3D scanning laser confocal Raman microscope RAMOS N500 provides the acquisition of two images within a single scan: a Rayleigh image (using laser light reflected from a sample) and a spectral image by Raman scattering.
Ultrafast imaging option allows to get confocal image in 3 sec (3 μs/pixel).
RAMOS N500 uses fast beam scanning by galvano mirrors.
Layout of galvano mirror scanner module allows mapping with no intensity losses from image center to its edges.
For More information
Click here for the RAMOS N500 page on the Ostec Website.

Contact Us Online Form
Phone: 916-897-2441
Email: [email protected]