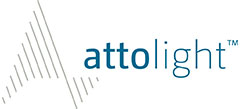 Attolight manufactures the leading cathodoluminescence (CL) microscopes and accessories on the market. These systems are used for a range of applications, including:
Micro-LED characterization
Defect Visualization and Counting in Optoelectronic Materials
Power Electronics
Photovoltaic Materials
Defects in Thin Film Battery Materials
Semiconducting Diamond
Three types of systems are available:
Allalin – Research-grade SEM-CL Tool
The Allalin is a nanometer resolution spectroscopy instrument, based on quantitative CL that integrates a CL detection tool and a scanning electron microscope (SEM) into one tool.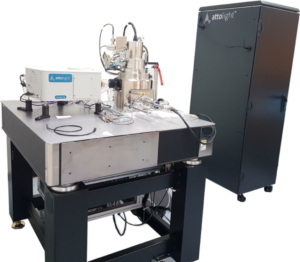 The Allalin SEM-CL Tool
Some of the benefits of the Allalin include:
Zero alignment needed for CL detection
Large field of view (300 microns) without moving the sample
Simultaneous generation of CL and secondary electron (SE) images
Low-temperature operation to 10K
Upgradable to Chronos time-resolved CL with 10 ps time resolution.
For more details on the Allalin system, please see the Attolight product page: https://attolight.com/allalin/
Quantitative Cathodoluminescence
Attolight has developed the first Quantitative CL system that allows for the comparison of spectra from different regions and samples to representative quantitative differences in your sample. On Attolight systems, differences of this type are reflective of differences in the material. Using traditional CL techniques, these differences can often be due to alignment issues related to the parabolic mirror used in these systems.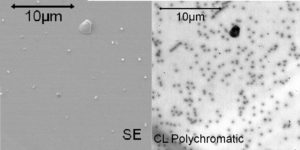 Säntis 300 – Full Wafer CL Measurement Tool
The Säntis 300 CL wafer characterization system.
The Säntis 300 system has been designed for fully automated CL measurements and control of on wafers up to 300mm.  The system is available with a range of options that allow for sample turnaround and process automation
For more details on the Säntis system, please see the Attolight product page: https://attolight.com/santis/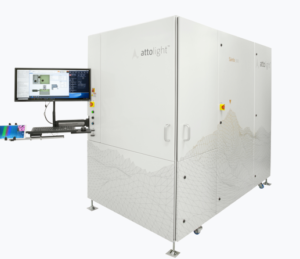 Chronos – Time-Resolved CL Tool
The Chronos is a time-resolved CL tool that builds on the Allalin quantitative CL system. The system can provide time-resolutions of up to 10 ps with full spectral data reported at each point.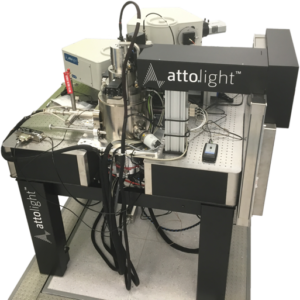 The Chronos Time-Resolved CL System
Mönch STEM-CL Accessory
The Mönch is a cathodoluminescence detector for STEM that has been designed from the ground up to achieve unprecedented signal-to-noise ratio and spectral resolution.
For more details on the Mönch system, please see the Attolight product page: https://attolight.com/monch/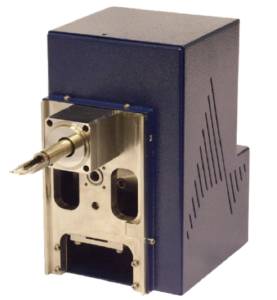 The Mönch CL-STEM Accessory
For more information on Attolight, please contact us. You may also learn more by going to the Attolight web site.