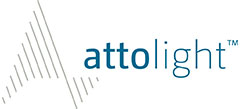 Attolight manufactures the leading cathodoluminescence (CL) microscopes and accessories on the market.  These systems have been used for a range of applications, including:
Micro-LED characterization
Defect Visualization and Counting in Optoelectronic Materials
GaN for Power Electronics
Photovoltaic Materials
Defects in Thin Film Battery Materials
Semiconducting Diamond
EAG Laboratories and Attolight Announce Partnership
Two types of systems are available:
Allalin SEM-CL
The Allalin is a nanometer resolution spectroscopy instrument, based on a disruptive technology known as quantitative cathodoluminescence that integrates a light microscope and a scanning electron microscope (SEM) into one tool.
For more details on the Allalin system, please see the Attolight product page: https://attolight.com/allalin/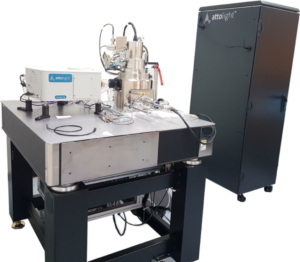 The Allalin SEM-CL Tool
Quantitative Cathodoluminescence
Attolight has developed the first Quantitative CL system that allows for the comparison of spectra from different regions and samples to representative quantitative differences in your sample.  On Attolight systems, differences of this type are reflective of differences in the material – using traditional CL techniques, these differences can often be due to alignment issues related to the parabolic mirror used in these systems.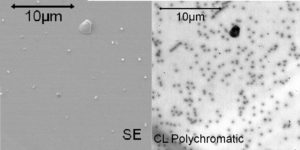 300 Micron Field-of-View
Attolight's SEM-CL tools provide for a 300 micron field of view where CL spectra data is obtained without moving the sample.
Cryogenic Nanopositioning Stage
The Attolight system can be configured with a cryogenic nanopositioning stage that provides temperature control down to 8K with 1 nm accuracy and pivot-point precision that allows you to define a pivot point and have the same rotated about that point.
Chronos Time-Resolved Cathodoluminescence
Picosecond time-resolved cathodoluminescence microscope
The Chronos is a variable temperature time-resolved nanometer resolution spectroscopy instrument that builds on the Allalin quantitative CL system. In continuous operation mode, the Chronos works like the Allalin system using the same high current density Schottky field emission gun.
For more details on the Chronos system, please see the Attolight product page: https://attolight.com/chronos/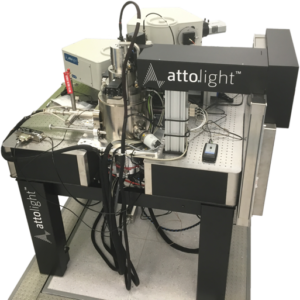 The Chronos Time-Resolved CL System
Säntis 300
Full wafer cathodoluminescence microscope
The Säntis 300 system has been designed for fully automated control of 150, 200 and 300mm wafers.
For more details on the Säntis system, please see the Attolight product page: https://attolight.com/santis/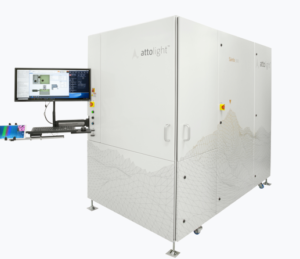 The Säntis 300 CL wafer characterization system.
Mönch STEM-CL Accessory
High throughput and high efficiency cathodoluminescence add-on for STEM
The Mönch is a cathodoluminescence detector for STEM that has been designed from the ground up to achieve unprecedented signal-to-noise ratio and spectral resolution.
For more details on the Mönch system, please see the Attolight product page: https://attolight.com/monch/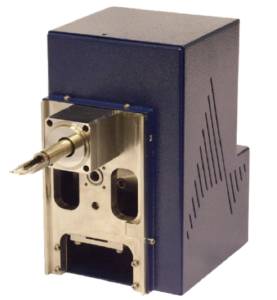 The Mönch CL-STEM Accessory
For more information on Attolight, please contact us.  You may also learn more by going to the Attolight web site.