TOP | Raman | FTIR | LIBS | Nano mechanical Testers
X-ray | Vibration Control | Gas Sensors
We offer a wide range of solutions – stationary, portable multi-gas and individual gas analysis systems, network equipment, auxiliary
products and accessories for construction of gas analysis networks. Our solutions are designed for continuous monitoring of air in work and residential areas, as well as process media. Besides series products listed in the catalog, we are ready to develop and deliver system solutions and products tailored to the specific requirements of the customer.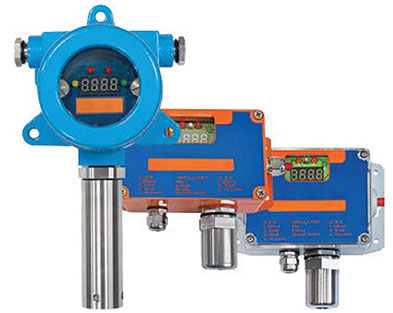 While introducing a new line of gas analysis equipment to the market, we offer a fundamentally new concept of gas analysis systems based on replaceable modular gas analyzers GAOS S-SM-9001.
GAOS S-SM-9001 gas analyzer
The metrological characteristics of stationary gas analyzers are almost completely determined by the gas sensitive element with an electronic control module. Each type of gas sensitive elements requires its own control and processing algorithms; individual calibration is required for each individual sensor. By combining the sensor with the secondary processing
module into a single structural unit, we created an intelligent sensor module (ISM). It stores calibration and other factory constants, and also
supports an open, unified digital interface for connecting to external devices.
Since all the metrologically significant elements are concentrated in the ISM, and there are enough standard power supply and data transmission
interfaces to work with it, this module is a complete gas analyzer – GAOS S-SM-9001, to which the type of measuring tool is assigned.
Indeed, the operation of GAOS S-SM-9001 requires only external power supply and any device supporting the serial port 11АВТ, i.e. any personal computer or industrial controller (Fig.2). No specialized software is required; any terminal program (for example, the one supplied with Windows ) is enough.
Gas analysis systems based on gas analyzers GAOS SENSON-SM-9001
GAOS SENSON-SM-9001 fundamentally changes the approach to design and operation of gas analyzers, while maintaining outward similarity with traditional solutions. This is possible due to the functional separation of a small built-in measuring module (gas analyzer) and all other elements of the device (gas analysis system).
For ease of use of gas analyzers GAOS SENSON-SM-9001 a number of sets of auxiliary equipment have been developed. Together with the gas analyzer GAOS SENSON-SM-9001 they form gas analysis systems. As part of these systems, the GAOS SENSON-SM-9001 gas analyzer is referred to as a smart sensor module. We emphasize that only the ISM is the measurement tool, it is this module that is subject to periodic calibration. That's why, during this procedure, it is not necessary to dismantle the rest of the gas analysis system equipment.
Auxiliary equipment of gas analysis systems is made in an explosion-proof version of the type "flameproof shell" or "intrinsically safe circuit" of the ia level. It has Ex- marking 1 Ex d IIC T 6 (flameproof enclosure) or 1 Ex ia IIC T4 X (intrinsically safe circuit). The rated voltage of the power supply is 24 V DC, the allowable range is 18-27 V. The degree of protection of the enclosure against external influences is IP 66 according to GOST 14254-2015 (IEC 60529:2013). We offer a range of options for gas analysis systems, allowing you to choose the configuration that most closely matches the features and operating conditions. All gas analysis systems are grouped into two series: SD and SV (GAOS SENSON-SD-xxxx-SM and GAOS SENSON-SV-xxxx-SM).
The SD series includes the basic models of systems ("sensors"). It includes modules providing ISM connection, power supply and data exchange with external devices via the Current Loop 4-20 mA and RS-485 channels (protocol MODBUS RTU). However, the gas analysis systems of this series do not have the means to display and control external devices. The SV series is a functional extension of the SD series. Each unit of the SD series corresponds to the gas analysis system of the SV series. SV systems have the capabilities to indicate the measured concentration, signaling that thresholds are exceeded, a built-in keyboard for adjustment, and controls for external equipment.
Each of the series contains three groups of devices, differing only in the design options, and, accordingly, restrictions on the operating conditions. The systems of group 1 – GAOS SENSON-SD-7031-SM and GAOS SENSON-SV-5021-SM, respectively are the most resistant to external influences. The modules of these systems are made in explosion-proof enclosures (stainless steel and aluminum alloy) of the type "flameproof enclosure" and with an allowable operating temperature range -60 to +50 °C.
GAOS SENSON-SD series
The system GAOS SENSON-SD-7031-SM is a switching and broadcasting module MKT-1m in a cylindrical stainless steel case with an easily removable cover. The gas analyzer GAOS SENSON-SM-9001 is installed under the cover.
The system GAOS SENSON-SD-7032-SM is made in a plastic case. ISM is connected to the MKT-1p module. The connection of ISM is provided by a special connector, covered with a protective cover.
The GAOS SENSON-SD-7033 system has a metal case with two cable entries and the sound alarm system. ISM is connected similarly to model 7032.
GAOS SENSON-SV series
The systems of the GAOS SENSON-SV series have more capabilities than those of the GAOS SENSON-SD series in terms of autonomous use. As a rule, all models of this series have a digital indication system, a keyboard for adjustment, actuating relays, and sound alarm systems. Group of systems GAOS SENSON-SV-5021-SM Auxiliary equipment of this group is made in the form of two blocks:
MKT-1m module with ISM installed in it;
module of switching, indication, control and interfacing of MKIUS.
All systems of the GAOS SENSON-SV-5021-SM series have an interface "current loop 4-20 mA". Type of explosion protection – "flameproof enclosure".
The systems of the GAOS SENSON-SV-5021 series are divided into two main groups: relay systems and network systems. Network systems (versions 5021-03 and -13) support the RS-48S digital interface but do not have actuating relays. Relay systems (5021, 5021-02, -10 and -12), on the contrary, are equipped with actuating relays, the connector for connection to the RS-48S channel is not provided.
The MKT-1m module can either be directly screwed into the MKIUS unit or connected to it with a 1.8 m cable (can be changed upon special order). Versions without indication and the keyboard are also possible (for example, for a decrease in energy consumption).
Gas analysis systems GAOS SENSON-SV-5022-SM and GAOS SENSON-SV-5023-SM are made in plastic and metal housings, respectively. Both systems have intrinsic safety type 1a explosion protection, a digital indicator and keyboard, three executive relays and a built-in sound alarm, as well as the Current loop 4-20 mA interface. The GAOS SENSON-SV-5023-SM system additionally supports the RS-48S digital interface, that is, it can operate both independently and as part of a network.
Process versions
Gas analysis systems can be produced in process versions. In this case, the protective cap with a grid for diffusion sampling is replaced by a cap with nozzles for the forced supply of samples. Such devices include GAOS SENSON-SD-7031-01-SM, SENSON-SD-7033-01-SD, SENSON-SV-5023-01-SD.
More information
Click here for the Gas Analysis page on the Ostec Website.
Visit the Ostec Website.