Top |Polariscopes | NIR Polariscopes | Polarizing & Wave Plates
NIR Polariscopes come in 2 versions LSM-9001NIR and the LSM 9100WNIR.
LSM-9001NIR
The LSM-9001NIR fully automatic polarimeter for low phase difference products such as semiconductor wafers. This remarkable new technology allows for stress inspection of previously impossible materials.
With the NIR instrument you can now look for stress in the following materials
Silicon Wafers
Silicon [Si]
Silicon Carbide[SiC]
Gallium Nitride [GaN]
Glass wafer
Transparent and colored resin products
Crystallized Quartz / Quartz / Optical crystals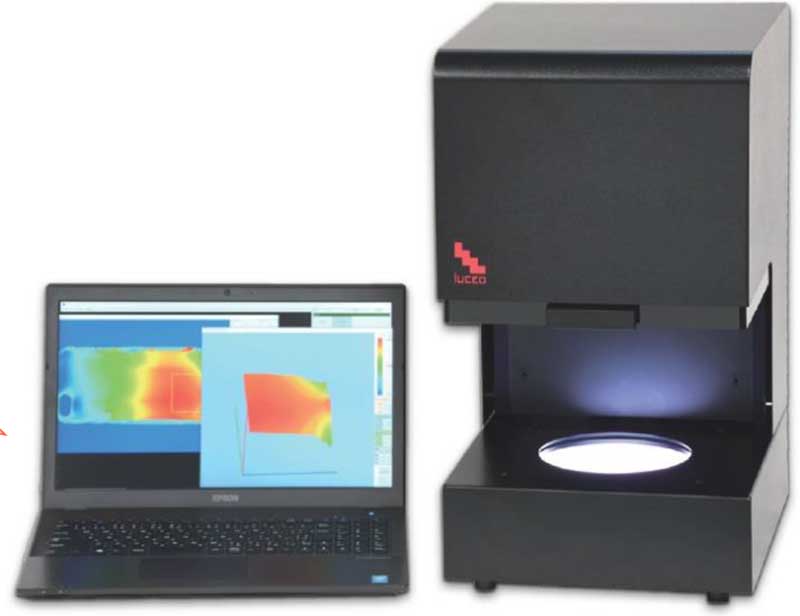 Specifications
Inspection Method
NIR Rotating Analyzer Method
Measurement Range (approx.)
0~150nm (Retardation)
Measurement area size
(approx.) 50×50mm
Measurement object placement space (height)
Max 160mm
Size
W300 ☓ D353 ☓ H540 mm
Weight
22 kg
Others
Light Source:high-luminanceLED
PowerSorce:AC100~240V 50/60Hz DC input 24V 1.6A
Component:Mainbody,PC,Cables
Accessory:Main body cover
OS:Windows10 Pro (64bit)
LSM-9100WNIR
Enables quality control of colored resins
It is possible to evaluate strain distribution of colored resin products which were difficult to evaluate previously.
With the WNIR instrument you can now look for stress in the following materials
transparent resin product
colored resin product
resin film
resin sheet
crystal
quartz
optical crystal
The sample is limited to a object which are transmissive 900 1200nm wavelength of light.

| | |
| --- | --- |
| Model name | Near Infrared Polariscope LSM-9100WNIR |
| Data Reported | retardation (nm), stress (MPa) |
| Measurement area | (approx..) 100mm x 100mm |
| Wavelength of light source | 900 ~ 1,200 nm |
| Inspection method | NIR 3 wavelengths Linear Polarization Method |
| Size | W300 × D 353 × H 540mm / 22kg |
For More information
Luceo Strain Analyzers
Luceo Manufacturer Website

Contact Us Online Form
Phone: 916-897-2441
Email: [email protected]