Top | White Light Confocal | Laser Confocal | Differential Interference Contrast | White Light Interferometry | Phase Shift Interferometry | Reflectometry Film Thickness
Observe nanometer level morphology using differential interference contrast observation
Differential interference contrast
Visualize sample surface ultra-fine morphology clearly with confocal and differential interference contrast (DIC) observation combination. There is minimal impact from back-side reflection even if the sample is transparent because the depth of focus is very shallow.
DIC provides advantages over other contrast techniques, such as phase contrast or oblique contrast since the full aperture of the microscope is used. For example, in phase contrast, the annulus of the condenser restricts the aperture, reducing the resolution of the image. Unlike phase contrast, DIC images are not disturbed by halo artefacts.
Sample Comparison between Standard Confocal and DIC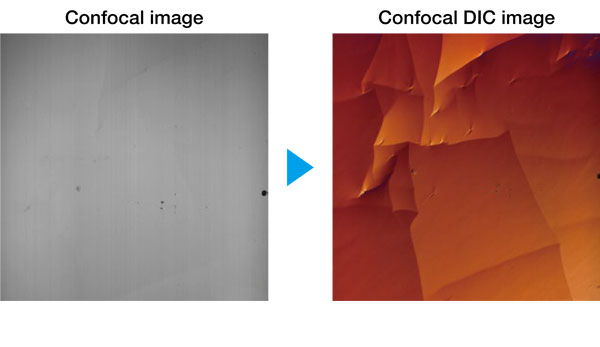 In the standard confocal the image quality is poor while the sample morphology is clearly visible in the DIC image.
For More information

Contact Us Online Form
Phone: 916-897-2441
Email: info@Barnett-Technical.com