We are very excited to be attending SciX 2019 in beautiful Palm Springs California.
Come visit us at booth #514 where we will be showing the Micro Manipulators from MicroSupport.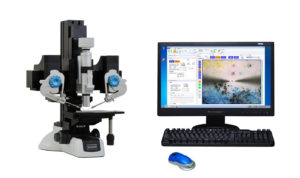 Micro Support Micromanipulators
Microscope/micromanipulator system to easily perform sample manipulations as small as 1 micron.  Probes available for a wide range of sample manipulations, including:
Isolating particles
Cutting
Milling off a surface
Micro tweezers
Vacuum for particle transfer
Arms also be added to FTIR or Raman Microscopes
OSTEC
Ostec Corporate Group produces and offers hi-tech innovative scientific and analytical equipment.
SciX 2019, October 13-18, 2019 in Palm Springs, California
Leading researchers will convene to present their cutting edge developments in analytical sciences, instrumentation, and unique applications. The SciX meeting hosts a world-class exhibition, presentations from leading scientists, educational courses, and many networking opportunities.