Ostec Corporate group is an engineering company that provides complex engineering and consulting services in the field of electronics to improve the efficiency of enterprises and the competitiveness of their products.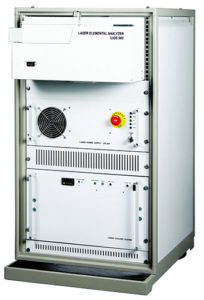 LIOS 500
LI05 500 is a modern powerful instrument based on the latest
cutting-edge LIBS technology in the fields of optics, lasers, and spectroscopy.
Laser Induced Breakdown Spectroscopy (LIBS) is a chemical analysis technology that uses a short laser pulse to create a micro-plasma on the sample surface.
Capabilities
Qualitative analysis of 50 elements within 5 minutes.
Complete (multi-element) quantitative analysis in 3 to 30 minutes.
Detectable elements from H to U. Measuring range from 1 ррm to 100%. Minimal atomized substance (material consumption for the analysis) weight is 50 nanograms Qualitative, semiquantitative and quantitative analysis of materials, components, additives, impurities, inclusions, etc. at all production stages as well as end product control in practically any industry.
Advantages
Minimal sample preparation (measuring chemical elements or oxides concentration in a sample).
Express multi-element analysis. Complete chemical analysis at one measurement.
High sensitivity and precision of measurements in the wide concentration range.
Sample aggregate state change is not required.
Sample analysis in a given point area of the surface by means of the positioning and video systems.
Layer-by-layer analysis of surfaces, films, deposits, corrosion.
Inclusions, flaws, defects analysis.
Sample Preparation
There is no need for sample preparation in case of solid or monolithic materials analysis (metals, alloys, glasses,
ceramics, etc.). Sometimes flat area of a sample surface is required. When analyzing a transparent sample (glass, crystal) the analyzed area must be additionally polished. For powdery sample analysis (refractory components, slags, concentrates, sands, ashes, etc.)
the material must be ground and then pressed into pellets. Powdery sample preparation takes about 10-20 minutes. 100 mg of a sample material is required for the pellet preparation.
More information
Visit the Ostec Website.