Top |Polariscopes | Surface Stress Meters
Instruments that are developed to measure surface stress of chemically tempered glass and thermally tempered glass automatically.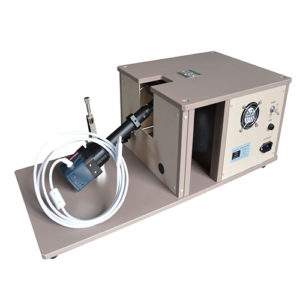 It is possible to measure chemically tempered double ion exchanged glass. Newly released FsmV software allows you to measure double ion exchanged glass in addition to thermally tempered glass and single ion exchanged glass.
Graphic displays of sectional stress distribution. Evaluation of double ion exchanged glass is easily performed because distribution of sectional stress is graphically displayed.
Over 120um of stress layer is measurable.
Depth of stress layer is calculated based on the number of interference fringes. In deeper stress layer,counting the number of the fringes precisely tends to become less able to do because the deeper stress layer displays more interference fringes and it narrows intervals between the fringes.
FSM-6000LE
Object to be Measured
Thermally tempered glass (Tin side)
Single chemically tempered glass, Double chemically tempered glass
□ Shape: Flat glass
□ Size: Over 10×10 mm
Range
Stress: 0-1000MPa (Wide angle: 0-1500MPa)
Depth :10-100μm  (Wide angle:10-150μm)
Accuracy
Stress:±20MPa
Options
* Automatic measurement of the glass thickness (thickness measuring unit is bought separately.)
* Wide view (wide view measuring unit is bought separately, it's unnecessary for chemically tempered double ion exchanged glass.)
* Dropping immersion liquid (An automatic dispenser is bought separately.)
FSM -6000LEIR
Object to be Measured
Thermally tempered glass (Tin side)
Single chemically tempered glass, Double chemically tempered glass
□ Shape: Flat glass
□ Size: Over 10×10 mm
Range
Stress: 0-1000MPa (Wide angle: 0-1500MPa)
Depth :10-100μm  (Wide angle:10-150μm)
Accuracy
Stress:±20MPa
Option
* Automatic measurement of the glass thickness (A thickness measuring unit is bought separately.)
* Wide view (A wide view measuring unit is bought separately, it's unnecessary for chemically tempered double ion exchanged glass.)
* Dropping immersion liquid (An automatic dispenser is bought separately.)
FSM -6000LEUV
Object to be Measured
Thermally tempered glass (Tin side)
Single chemically tempered glass, Double chemically tempered glass
□ Shape: Flat glass
□ Size: Over 10×10 mm
Range
Stress: 0-1000MPa
Depth :5-50μm
Accuracy
±20MPa
Option
* Automatic measurement of the glass thickness (A thickness measuring unit is bought separately.)
* Dropping immersion liquid (An automatic dispenser is bought separately.)